Workers' compensation is a benefit provided to an employee who has sustained an injury or an occupational disease while in the course and scope of work. Some of the benefits you are entitled to (upon claim eligibility) can include medical care for the injury, indemnity wage benefits, vocational rehabilitation services, etc. These benefits are the responsibility of the employer. The following group of employees is covered under Workers' Compensation: Faculty, Staff, Medical Residents, and Student Workers.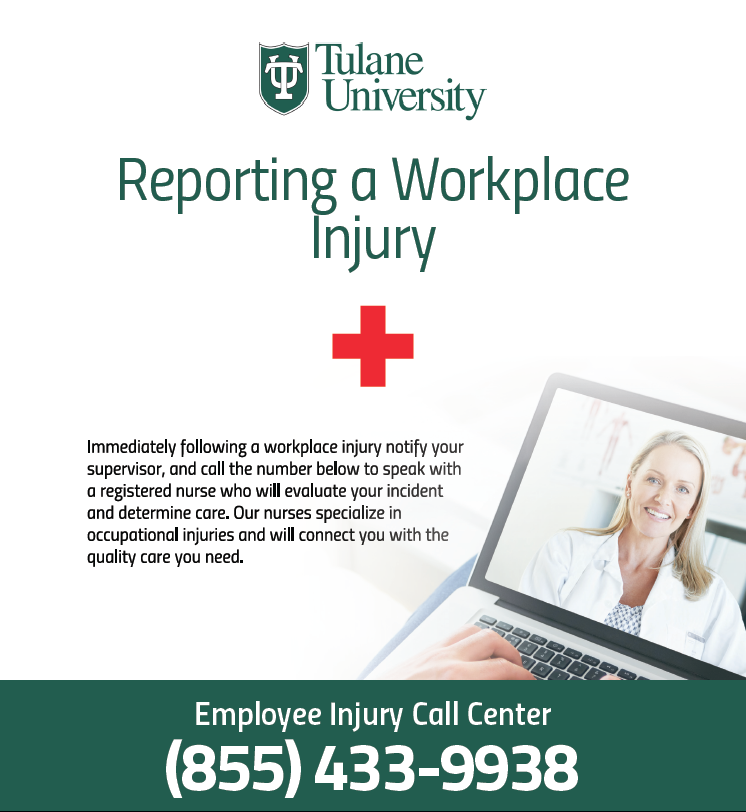 Steps for Reporting an Injury

Employee's Responsibility

Medical Resident's Responsibility

Student Worker's Responsibility

Supervisor's Responsibility

Frequently Asked Questions

Forms

List of Clinics

Contact Information
Serious and/or Life Threatening Injuries
If the injury is serious, call Tulane Police immediately. Tulane Police will call 911, if considered necessary.
Downtown/Uptown Campus Police – (504) 865-5911  or ext. 55911
TNPRC Police – (985) 871-6411 or ext. 6411
Questions
If you have questions regarding the Workers' Compensation process, please contact Enterprise Risk Services at (504) 247-1716 or workcomp@tulane.edu.